...goes full circle. Deep gratitude to all those who have allowed me to work with them as a doula, facilitator, instructor, + companion. 
-JAE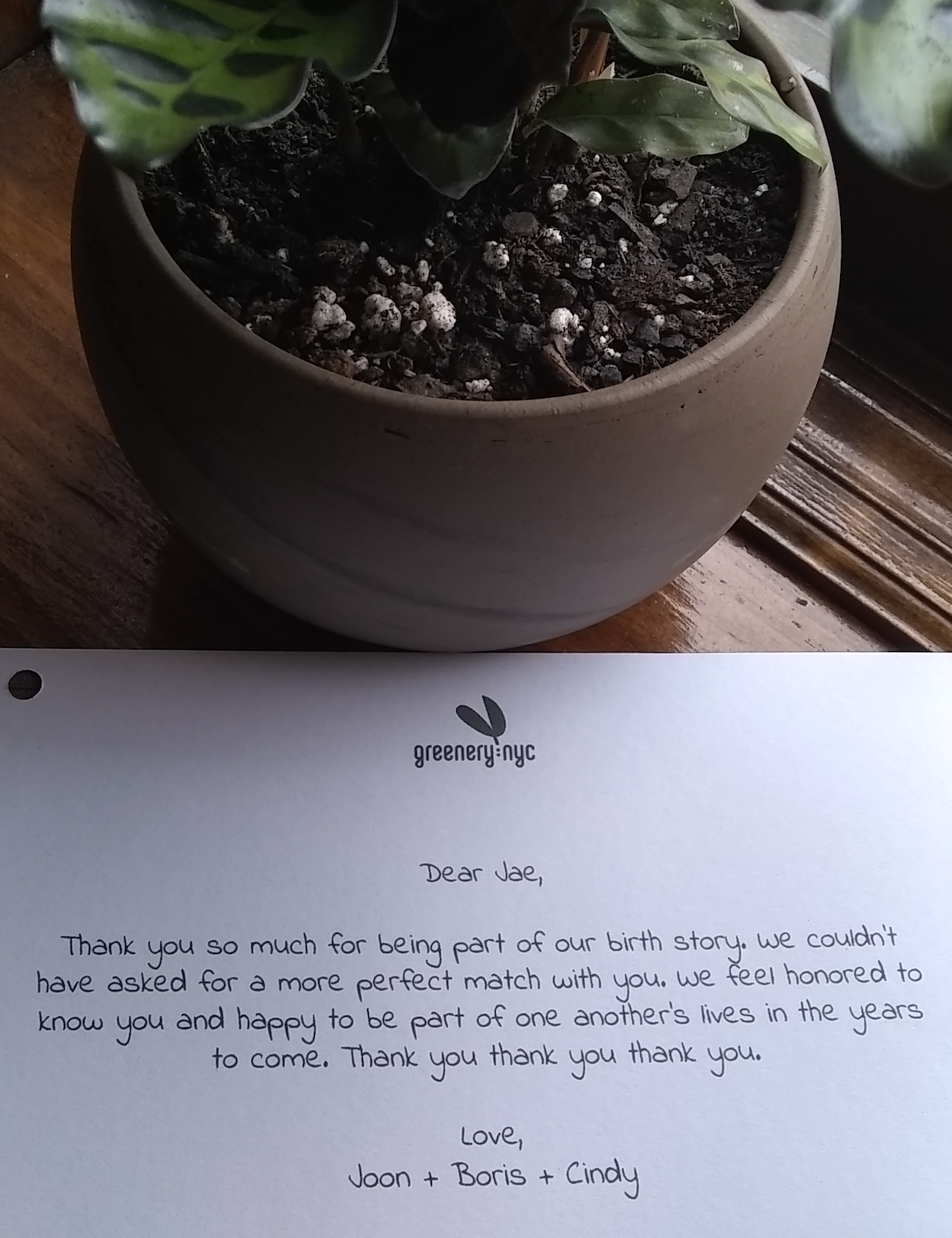 Our experience with Jae was fantastic. She has a calming energy that enabled me to relax as much as possible through contractions of labor and through pushing. I'm convinced that this is what enabled me to progress to 10 cm within 24 hours (which was important, since my water had already broken before admittance to the hospital). My husband also felt very supported by Jae - she made him feel included and helped guide him in how to be there for me, even when he was fatigued. She went above and beyond for us - showing up to the hospital hours before most doulas would have, and staying longer than was contracted for. We both appreciated that she did a lot of her support non-verbally. We absolutely loved her and would recommend her to anyone.
- Kelly
Jae's steady presence was like an anchor during the ups and downs of my pregnancy, birth, and postpartum period. My partner and I appreciated how thoughtful she was, offering her guidance and lots of resources whenever we had questions as first time parents planning a home birth. Active labor came on stronger and faster than I expected, and Jae arrived exactly when I needed her calming voice and touch to ground me. While I was lost in the contractions, my husband was busy setting things up and filling the birth pool, so having Jae there to support both of us and call my midwife when it was time was essential. Thanks to her care alongside the rest of my team, I was able to have a beautiful birth at home. I'll remember the moments and days after as the peak experience of my life.
 - NORIKO
Jae was hands down the absolute BEST Doula I could have ever imagined! I was hesitant at first to even hire a Doula but I am so so thankful I did. I found Jae right before I gave birth and knew she was going to be a great addition to my experience because of her background and her overall calming demeanor.
I had an idea of how I wanted my birth experience to go but, unfortunately, there were some unexpected circumstances that came up. My labor lasted 52 hours from when my water broke. Jae helped talk me through different choices in trying to keep as close to my birth plan as possible. Her knowledge was incredibly insightful and she helped me make well thought out decisions even in the middle of my labor!! Jae has this beautiful calming energy to her that will keep you centered and focused. She also helped me with my breathing (I studied hypno-birthing), as well as my pain management through massage and other techniques she uses. Jae understands how important it is for your spouse to feel helpful and included. She gave my husband and I time to discuss decisions and created a space for us to truly enjoy the birth of our first child.
Overall, Jae gave me one of the most wonderful gifts throughout this whole birthing experience and that was the gift of empowerment. As a first time Mom, labor can put you in a very vulnerable state of mind. She empowered me to make educated decisions on my own and not influenced or pressured in any way. Because of her support I was able to still have a beautiful birth story. I will always look back on this memorable moment of my life fondly even after 52 hours! I could not have done it without her! I will definitely have Jae with me for the birth of my second child. I believe this is her true calling in life and I'm so grateful to her.
- Lauren 
Jae was exactly what we were looking for in a doula. She is calm and confident, but also very friendly.  She came to our home before the birth to educate us on the birth, and also practice laboring in our home.  During the birth she was relaxed and very comforting for my wife.  In the weeks and months after the birth, she kept checking in on us, and even visited to see how we were doing. We wanted a doula to help my wife give birth without an epidural and she helped make that possible. I would definitely recommend her! 
- CARLOS
I came out of the hospital with my new daughter, Maëva, happy, healthy and proud. My mother, my father, Maëva's father and I were all lucky enough to be present at her birth and we all left the hospital cheering for Jae Carey, our amazing doula. She was beside me, supporting and guiding me through birth responding to my needs both through body language and verbal communication. She set a tone in the delivery room for us all to follow placing the challenging experience of child birth in an environment conducive to peace. All we had to do was focus on the second we were in until the arrival of Maëva. To have someone familiar and knowledgeable about these enduring moments by your side will help you succeed in whatever plan you may have in child birth. I plan to have Jae Carey by my side the next time I have a child. I believe she helped me find my own courage to have the natural birth I was planning for and would highly recommend her to anyone having a baby.
- SARAH
I don't know what we would have done without Jae! I had planned for a low-intervention birth at a birth center, and of course it all flew out the window when I had to be transferred to labor and delivery right after being admitted. Throughout my labor, Jae was a caring, calming presence to myself and my partner - she seemed to know just what I needed in the moment before I even knew I needed it. In the heat of the moment, she made sure I understood everything that was going on and she and my midwife made a great team. I would 100% recommend Jae. My partner and I were lucky to have gotten to experience the birth of our first child with her. 
- ALYSON
Jae and Alden were gifts to our family. Last fall my wife and I discovered one of our twin sons would be stillborn. We were tasked with finding a way to greet our living son and say goodbye to our deceased son at the same time. Somehow, we needed to find a way to make room for both the joy and the grief.
In both, Jae and Alden were our companions and our guides. They both spent time with us before the birth to talk through our expectations, help us prepare for the physical and emotional experience, and help plan the logistics.
There were a host of steps involved in preparing for the stillbirth--deciding on burial vs. cremation, figuring out how we wanted to honor our son Aster, and involving family--and they guided us through beforehand so we could focus only on our children on the day of the birth. To be honest, I don't know how we would have managed without them. They thought of everything so that we didn't have to.
Jae worked with us for the birth. Alden served as her backup. When Jae walked into our hospital room on the day of our delivery, I watched my wife breath more deeply and gain the confidence she needed to bring our babies into the world.
She coached my wife through the delivery of our son Jude, who came first, and she helped us to feel confident connecting to him. When Aster arrived, she was a steady presence, able to sit with our mix of emotions without fear. Jae also introduced us to Amy Cunningham, the compassionate funeral director who helped arrange for Aster's cremation, worked with the hospital so that our son would never need to be placed in the morgue, and led a small ceremony for us and our families in our hospital room.
I do not wish our particular experience on anyone, but should you find yourself in a moment of crisis--one that you expect, or one that you cannot predict--you will find no women stronger and more steady than Jae and Alden to come through it alongside you.
- JESSIE
My fiance and I had the good fortune of finding Jae Carey through DoulaMatch when I was approximately 4 months pregnant with my first child (a now nearly 6-week-old girl). I read through a LOT of descriptions on DoulaMatch and elsewhere and Jae's profile was one that really stuck out to me. Both my fiance and I can be high strung when under stress (and what had the potential of being more stressful than a first time pregnancy and labor and delivery?), and I liked that Jae had experience with yoga and meditation. Her overall  profile made me think that she would be laid back and hopefully provide a calming presence during an exciting and possibly volatile experience. After talking to Jae a bit on the phone, we agreed to meet in person. She was the first and only doula we met in person (although we'd talked to a few others), and after walking out of that meeting, both my fiance and I immediately agreed we didn't need to meet with anyone else. Jae in person was what I had hoped for: calm, kind, compassionate, and helpful. Throughout my pregnancy, we kept in touch with Jae, and she provided both support and resources. On the day my water broke and throughout a somewhat tumultuous labor & delivery (where 90% of my birth plan went out the window), she was a great comfort and support to both my fiance and me. We can't imagine having gone through it without her. Both my fiance and I care about Jae and consider her a close friend/family. If you want a doula who has a peaceful demeanor, and is calm yet present and engaged, among other things, Jae is who you're looking for. We are SO GRATEFUL we found her. 
- JENNIFER
Jae has been such a warm and caring presence for our students this past year while teaching meditation for our program, MindfulNYU. She brings a long and deep practice, and a unique, body-intuitive approach to teaching and what she offers. I am very particular about who I allow to teach for us, in a world where 'mindfulness' is more of a trend, rather than a skillfully cultivated practice derived from dedicated learning, ethics and wisdom. Jae is humble, deeply compassionate and trustworthy. She is aware of what people need in a variety of contexts, and so is thoughtful in creating a safe and accessible environment for those she instructs. I highly recommend her! 
- REKA PRASAD, PSYCHOTHERAPIST + FORMER ASST. DIRECTOR OF MINDFULNYU, NEW YORK UNIVERSITY