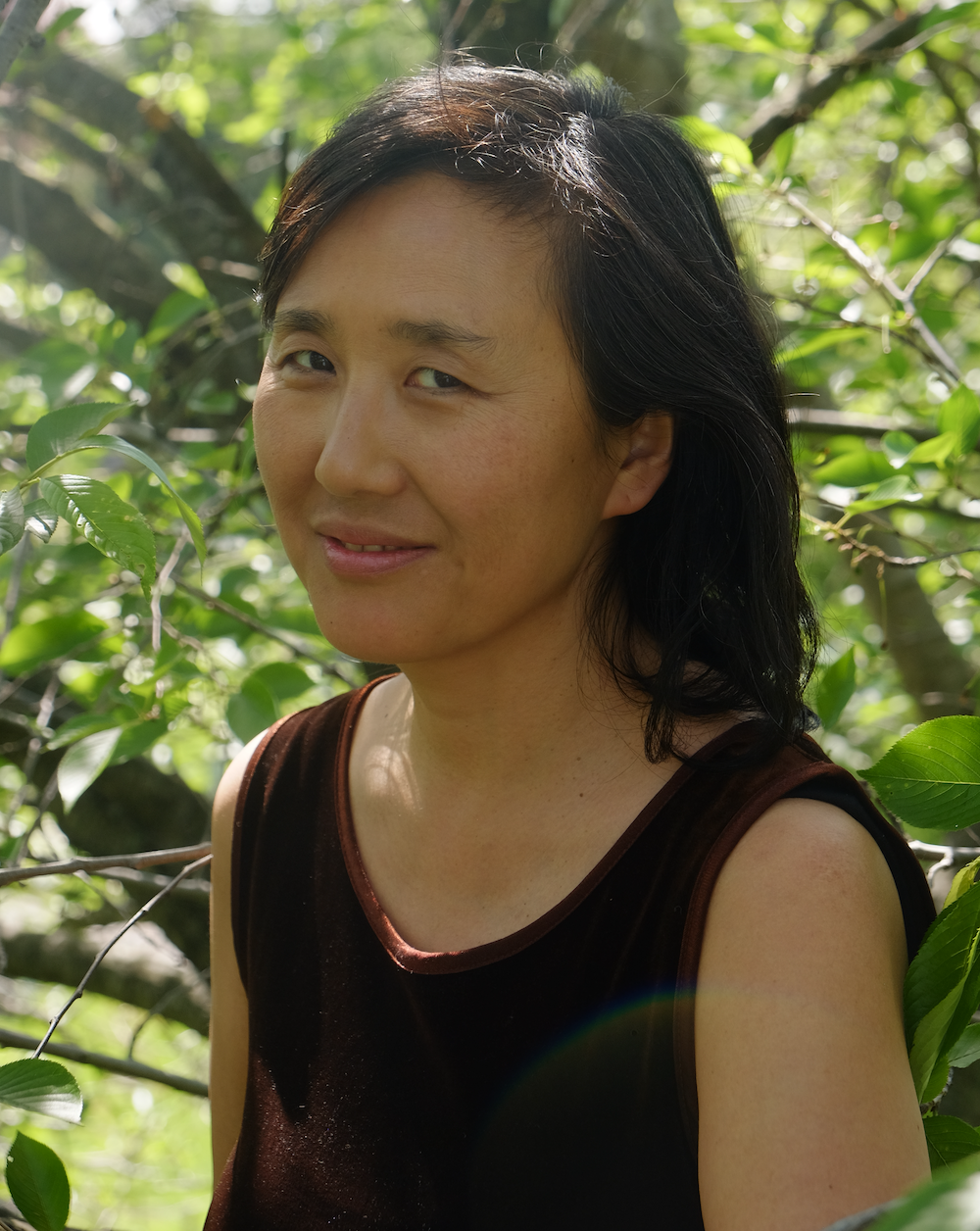 Birth stories matter. Jae Carey was born in Korea and adopted at 14 months old to a family in Oregon. Having thought a lot about origination stories, rites of passage, culture, race, and gender from a young age, she studied anthropology and sociology for a B.A. at Lewis & Clark College, and was eventually drawn to New York City for graduate studies, but really for the diversity of the City itself. 
Navigating becoming pregnant and birthing a child here, and without family support, drastically changed her life's orientation

—

so much so that she felt inspired to become a midwife or doula. Eventually she took the plunge, quit her job, and trained as a full-spectrum doula with Ancient Song Doula Services. And something did click, something hard to articulate. As one of her first clients shared, "Everyone else was focused on the baby, but it was great to have someone just focused on me." 
Doulas provide a quality of attention that is often missing in this medically oriented society. As a person who has grappled with their own history and trajectory, Jae attends with great care to the birth experiences and life transitions of others. And as an adoptee who never quite fit any mold, her support is truly inclusive, unconditionally supportive, and rooted in compassion. She also welcomes those who see their situation as complex, and has worked alongside clients with non-conventional family structures, those with previous or expected loss, and as a volunteer doula on Rikers Island and at CHiPS women's shelter in Brooklyn. 
Her background is also as a meditation and wellness instructor. Meditation in her experience is about being attuned and attentive to whatever is happening, with more emphasis on presence and process than set goals. She strives to be a calming companion, a skillful and sensitive advocate, and feels honored to play a role in the unique unfolding of each new passage, family, and story.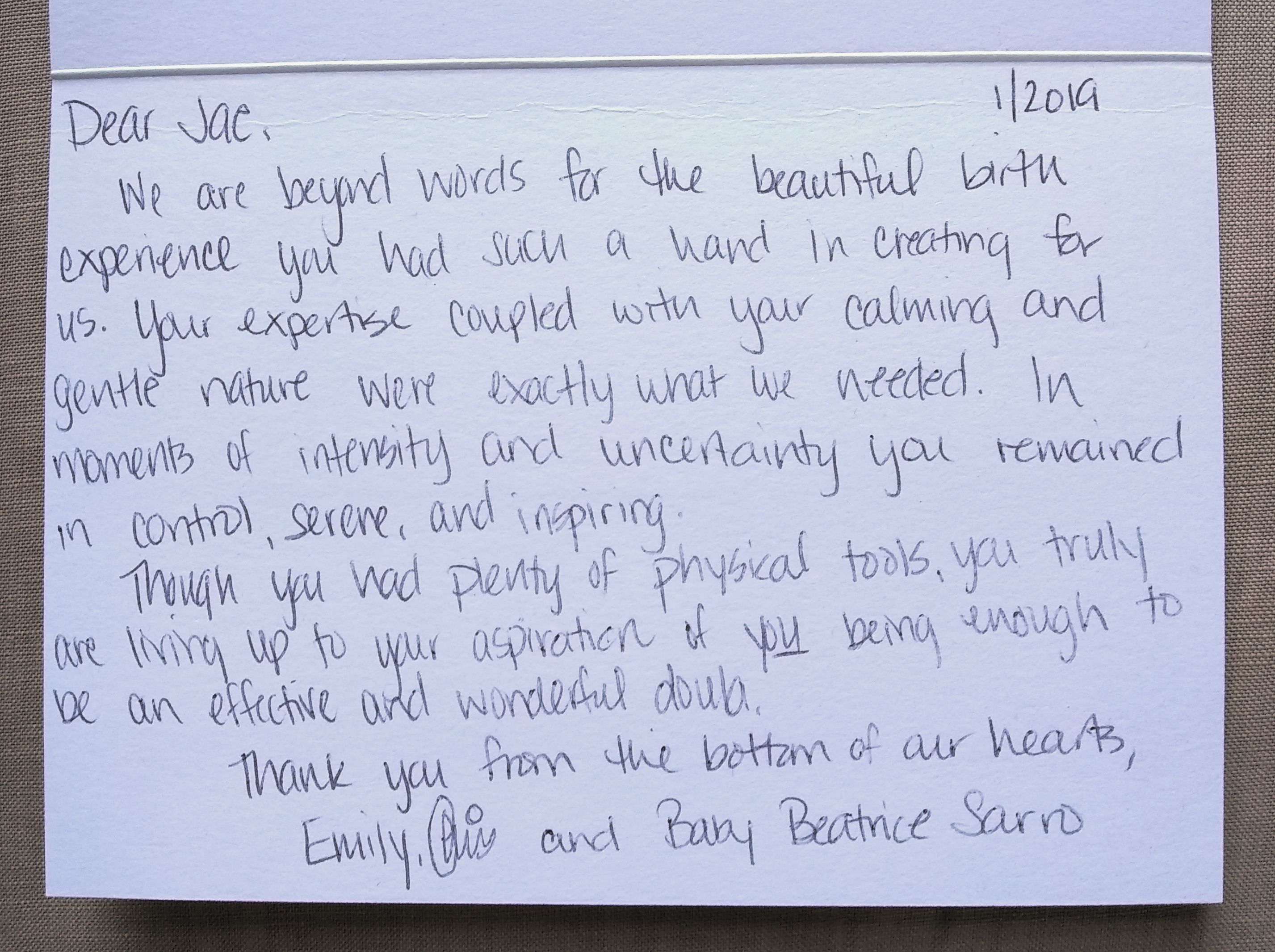 PROFESSIONAL HIGHLIGHTS
Certified Lactation Counselor (CLC), trained and certified with the Center for Breastfeeding (HCP)
All Things Lactation: Non-Traditional Infant Feeding Relationships, with Tanya Wills, CNM, IBCLC
Co-founded + co-lead Mindfulness + Stress Reduction Doula Support Group, with Mary Esther Malloy
Home Birth Midwife's Assistant, with JJB Midwifery / Shana Norberg, CNM
Holding Space for Pregnancy Loss, teacher certified with the Institute of Birth, Breath, & Death
Recentering Trans* Experiences in Reproductive Care, with doula and educator Charlie Monlouis
VBAC (vaginal birth after cesarean) Masterclass, with consumer advocate Jen Kamel of VBACfacts.com
Neonatal Resuscitation Program (NRP), certified with Karen Strange, CPM
Abortion + Adoption Doula Support, with the Doula Project
Reclaim the Medicine of Birth, with Karen Rose, Master Herbalist and owner of Sacred Vibes Apothecary
DONA Doula Training, with Rina Crane, DONA Intercultural Director
The Havening Technique and the Power of Emotional Safety, with Kimm Sun, CNM

New York City Doula Collective (NYCDC) member: Mediation Committee, and Access & Activism Committee

Stillbirthday, birth and bereavement certified
Understanding World Religions for Birth and Death Doulas, with Amy Wright Glenn

Full-Spectrum doula trained with Chanel Porchia, Ancient Song Doula Services

Foundations in Contemplative Care, 9 month certification, NY Zen Center for Contemplative Care

Meditation instruction training and facilitating: Brooklyn Zen Center, Prison Mindfulness Institute, Rangjung Prison Dharma Project, Rikers Jail, Streetwork Project, CHiPS women's shelter, MBSR, + MindfulNYU